Ann Arbor police officer, son back on track after suffering burns in fire at family's vacation home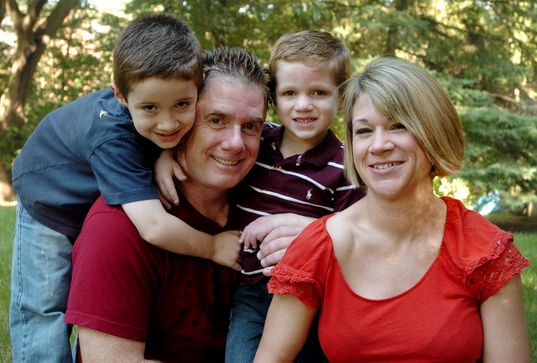 Ann Arbor police officer Ron McLennan has returned to duty just weeks after a fire destroyed his northern Michigan cabin, leaving he and his 4-year-old son Jack with second-degree burns.
His wife, Eastern Michigan University police officer Susan McLennan, and 6-year-old son, Spencer, also escaped the blaze. It started when a kerosene heater ignited gas that leaked into the home.
Susan McLennan considers her husband a hero for rushing to the living room and scooping up the boys during the explosion at the Hawks home.
"He didn't even take a second to hesitate," she said. "He just saved his boys."
Ron McLennan is grateful to be alive.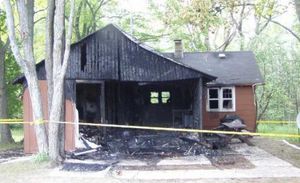 "We were very lucky and fortunate and by the grace of God, none of use were seriously injured or killed," he said. "The biggest thing is we have our two boys."
The Chelsea area family had driven to the three-bedroom home west of Rogers City on Aug. 5, kicking off a planned nine-day vacation.
When they arrived, they unloaded the van, and McLennan opened up two 100-pound propane cylinders on the back of the house. He also lit the pilot light on the hot water heater in the basement.
The boys ate pizza rolls for dinner, then everyone gathered around a fire pit with plans to head to the beach the next day.
"It was a beautiful night," McLennan said. "It was a full moon and the kids were having a blast eating S'mores."
When they woke the next morning, it was 48 degrees, so McLennan put hooded sweatshirts on the boys and himself.
The children were in the living room watching a movie, and McLennan turned on the kerosene heater in the kitchen to warm the place up.
While his wife was cooking bacon, he noticed the flames around the burner were 6 inches high, which he found strange.
"I told her, 'Turn that down," he said. "'That flame is too high.' She said, 'That's as low as it can go.'"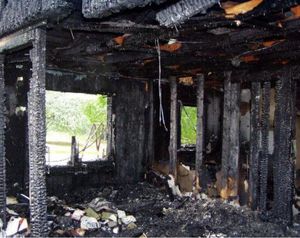 His wife tried another burner and encountered the same problem, so she turned it off.
McLennan turned the kerosene heater to the "off position," but it was still glowing - which it typically does for a short time, he said.
He looked for a kill switch to turn it off faster when "a big blue flame erupted," from underneath.
"I jumped up and yelled…" McLennan said. "The flame just erupted and at that point, it caught my face and hands. My wife screamed."
The flames spread across the cabin through the dining room and into the living room, where the boys were sititng, McLennan said.
There was an explosion. The windows blew out. Flames shot outside then came back in, and nearly everything was on fire, he said.
"I just took off to the living room where the kids were," he said. "Spencer was just sitting in a chair and he was screaming. He yelled, 'Daddy!'"
McLennan scooped up Spencer in his left arm and hurried to the couch, where Jack was sitting and screaming. He grabbed Jack with his right arm.
"I couldn't go out the front door because everything was on fire," he said.
McLennan hurried back through the dining room and into the kitchen, where he found his wife.
He gave Spencer to her and yelled, "Go, go, go, go out that back door,'" he said.
They ran toward the road, which was about 50 yards away, and McLennan looked back on the way.
"The whole place was fully involved with big black smoke pouring out of it," he said.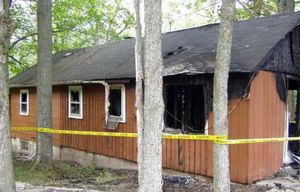 They tried to flag down a car, but it didn't stop, McLennan said. They ran a half-mile up the road to a house, and the man inside called 911.
As they waited for an ambulance, McLennan could see his hands were burned, and Jack had blisters developing on his face.
McLennan asked the resident if he could look at a mirror.
"I needed to see how bad my face was," he said. "The skin had just peeled off my face and then there were blisters on top of my right ear. My eyelashes were burned down to nubs and my eyebrows were burned."
The family was taken to the Alpena Regional Medical Center, but Spencer did not require treatment. McLennan credits the sweatshirts with protecting he and Jack from suffering additional burns.
Susan McLennan had minor burns on her lips and nose.
Two Ann Arbor police officers picked up the family the next day and took them to the University of Michigan Trauma Burn Center.
Ron McLennan spent three days at the hospital for burns to his face, hands and ears. Jack was there six days to be treated for burns to his face, an ear and hand.
McLennan and Jack encouraged each other during the recovery process and follow-up treatment.
"We're back to normal now," said McLennan.
The fire started because of a faulty gas line that led to an old furnace in the dining room, he said.
The home, which has been in the family for decades, was insured.
McLennan is grateful for the support of police department colleagues who raised hundreds of dollars for his family in less than 24 hours after the fire. He also praised the burn center, where he said he and his son received "extraordinary care" from nurses.
"They were very attentive, very caring," he said. "They were fantastic."
Jack will start preschool this week. The family is hoping to take the boys to their uncle's home in Kalamazoo to go fishing, Susan McLennan said.
"It certainly made me more grateful for what we have and more appreciative of my boys and my family," she said. "To go through something like this and make it through, most people don't do that."
Photo by Melanie Maxwell, AnnArbor.com: From left to right - 6-year-old Spencer McLennan, his father Ron, brother Jack, 4, and mom Susan.
Fire photos taken Aug. 6, courtesy of McClennan family.
Lee Higgins covers crime and courts for AnnArbor.com. Reach him at leehiggins@annarbor.com or 734-623-2527.