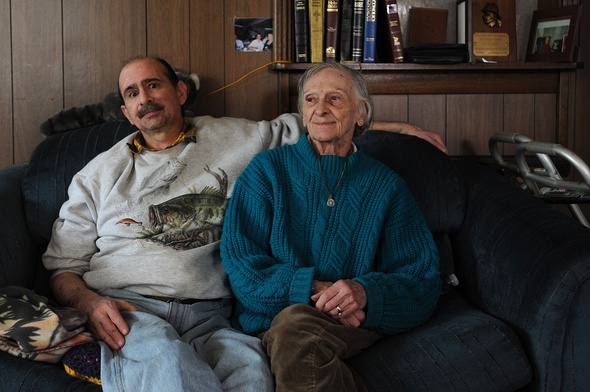 Melanie Maxwell | AnnArbor.com
A day after an elderly mother and her disabled son were rescued by firefighters from their Ann Arbor home, the pair are back in their home with no ill effects.
Kenneth Rutledge said he regrets leaving an unattended burning cigarette in an ashtray, but he's also happy that he and his mother are OK.
"It's my fault," he said. "When I put it in the ashtray, I expected it to stay there. It didn't."
The pair first tried to extinguish a smoldering mattress themselves. Rutledge and his mother, Paula, 79, used a fire extinguisher and doused the bed with canisters of water.
Rutledge, who can't walk due to neuropathy, said they stopped some of the smoldering, but couldn't get the mattress out of the house and the room was filled with smoke. That's when she called 911.
Five Ann Arbor Fire Department trucks and 16 firefighters responded at 9 a.m. to the single-family home at 1121 Birk Ave., near Pauline Boulevard and South 7th Street on Ann Arbor's said Robert Vogel, battalion chief.
The fire department got a handle on the situation within 10 minutes and pulled Paula and Kenneth Rutledge out of the home. They remained at the scene for about an hour.
Rutledge said he declined transport to a local hospital after paramedics found no evidence of smoke inhalation. His mother left the room when it got too smoky, he said, and did not receive medical treatment, either.
"There were no flames," Rutledge said. "We just had a lot of smoke."
Firefighters dragged the mattress outside and doused it with water, Rutledge said.
Melanie Maxwell | AnnArbor.com
"The best I can do is crawl, he said. "Neuropathy is deadness of the nerves, a loss of motor function control. My brain says go but my legs won't do it."
If anything, the lesson to be learned is to never leave cigarettes unattended, Rutledge said, especially around pets. He said he thinks Gizmo, his favorite cat, knocked the ashtray over, probably with its tail. A half hour later, he noticed it was smoldering and saw the ashtray upside down on the bed.
Gizmo and two other cats who live at the home are OK, he said.
Kenneth added that his father, who died in 2009, is a retired Ann Arbor firefighter.
He and his mother now take care of each other.
"It's a team effort," he said.
Vogel said damage was contained within the upstairs bedroom where the fire started.
Damage is estimated to be $20,000 to $22,000, an insurance adjuster told the family, Rutledge said.